Artist's Biography
I've always been drawing. At school my exercise books were filled with detailed and humorous sketches. However, I refused to take art seriously, and consistently distanced myself from art studies. Working hard at everything else, I avoided the art studio at all costs! At university I took architecture. Unwittingly, my emphasis was on the illustrative element. Inevitably, in the world of work, I found the rigours of architecture extremely limiting, and yearned for liberation. My work in architects' offices took me to Israel, where I made a major breakthrough. I walked out on my job and went off for a month into the Sinai desert.
This was a personal exodus. In that mountainous, burning desert by the sea, surrounded by the natural elements at their most raw, and very aware of the spiritual significance of Sinai for the Jewish people, I felt a calling back to art, and to my own way of connecting to the spiritual behind the material. Since then, I've been following my love of painting in every spare moment, while earning my living in technical illustration, and truly yearning for the day when I can work full-time on my art.

I live in Raanana, Israel, with my wife Lili and son Ariel (and dog, Shula). Why a dog? Ask Ariel….
Culturally and spiritually meaningful art.



I've always felt that the process of painting, and the finished work itself, has a strong basis in the spirit. Of course it's about the materials, but the place from which the creative drive originates is from deep within. It was in pursuit of this deeper significance that I studied art therapy for three years in Tel Aviv. I also worked for a very few years in this field, using art to help traumatised children give expression to their inner worlds. I learned how art can indeed be a gateway to aspects of our souls.

In my own art today, I am concerned with creating things of beauty, and have an affinity with naive art and symbolist art. If it has to be categorised, a lot of my work probably spans these two different but related genres. I hope you enjoy looking at my paintings. Please feel free to get in touch if there's anything you'd like to ask.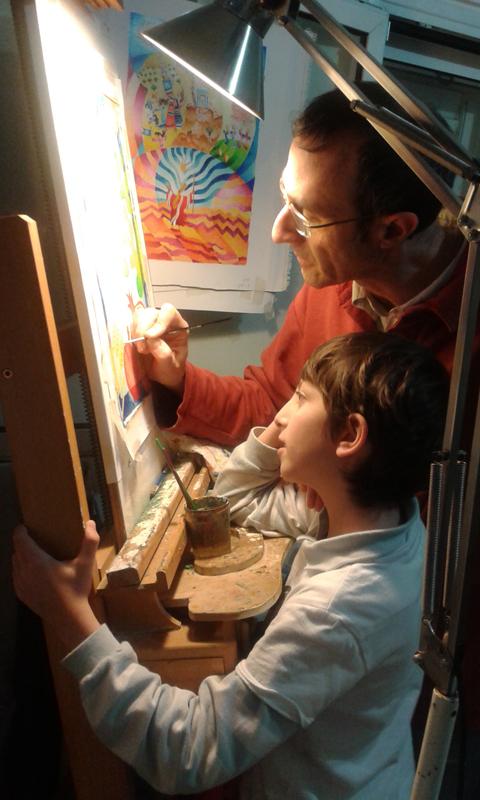 Above: Instruction is passed from father to son…..
Above: Our succah in Raanana (photographed in 2014). Over two or three years I collected various street-found IKEA parts and with these, made a modular succah which can be stored away and rebuilt every year. A succah is a symbolic hut, set up for a week each year at the festival of Succot (Tabernacles). It represents the People of Israel's sojourn in the desert (and the transition from slavery to freedom), as well as the impermanence of life, the concept of divine protection, and many other meanings.
Two videos made in the studio together with my son, Ariel (age 10)