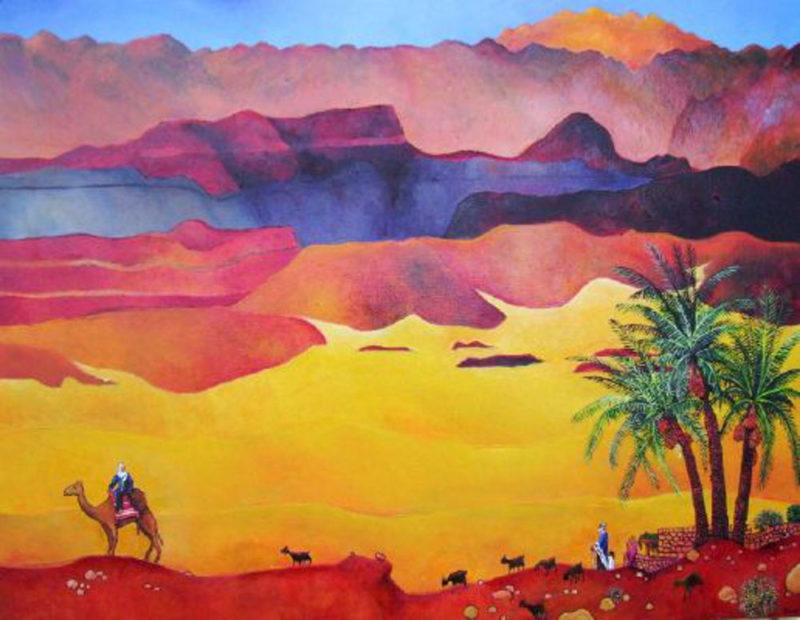 Israel landscape painting: Zachor (Remember)
Oil on canvas 20″ x 28″ (50cm x 70cm)
Price: $725
A painting of loss and gain
When I painted this picture, it was, as well as being an Israel landscape painting, quite a spiritual thing. I was thinking about how the ancient desert mountains are themselves a manifestation of Eternity, that is itself a single facet, amongst endless facets, of G-d. I hope that doesn't sound too pretentious, but it really was my state of mind while painting. Also, the original scene showed a leavetaking, a departure, and I identified that with my own departure from my family when I came to Israel. So in all it was quite a meaningful picture for me.
I am very pleased that this painting, albeit in modified form, is currently in use on a book-cover. Rabbi Francis Nataf approached me to illustrate his new book, Redeeming Relevance in the Book of Deuteronomy. I was honoured to be asked, and the result, with help from the designer at Urim Publications, is a most satisfying design.

The original artwork was painted in oil paints on Italian canvas, using a traditional home-mixed medium of turpentine, natural damar resin and linseed oil. It was sealed with traditional damar varnish.